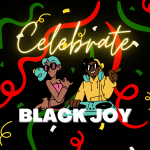 Hello K Students, Faculty, and Staff!
Black Joy Week starts on Tuesday, May 31st and we can't wait to celebrate with you.
Check out all of the ways you can participate as a student, faculty member, or staff member!
For more details and regular update, visit the Black Joy Week page.
Black Joy Week Schedule
The following events will take place from Tuesday, May 31 – Friday, June 3, EST.
All events listed below are free
Tue, May 31
---
Black Joy Week
Kick-Off Picnic
11:30 a.m. – 12:30 p.m. | Quad
Take a break and join us on the Quad for food, DJs, a photo booth, and games!
Wed, June 1
---
Black Student Organization
Wellness Wednesday
4-6 p.m. | Hicks Lower Atrium
Stop by for Wellness Wednesday with the BSO! Aside from food and music you can create a visual board highlighting black joy.
Thur, June 2
---
Faculty and Staff
Basketball Game
3-5 p.m. | Athletics Gym
Sign up to play or come watch!
Fri, June 3
---
Zoo Flicks
Double Showing
---
Want to be Notified?
All Kalamazoo College Students, Faculty, and Staff can subscribe here to receive notifications of BAFSA news, events, and more!