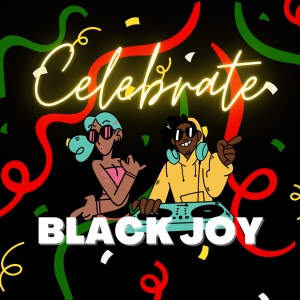 Celebrate Black Joy!
Like last year, we will have a week of fun, joy, and celebration from Tuesday, May 30th to Friday, June 2nd! To make sure that our student body can participate, events will take place during week 10.
Thank you to our co-sponsors!
Thank you to our co-sponsors the Intercultural Center, Arcus Center for Social Justice Leadership, Counseling Center, and the BSO. You continue to support and bring joy to our community. Many thanks, BAFSA
---
Black Joy Week Schedule
Black Joy Week will take place from Tuesday, May 30 – Friday, June 2, EST.
Tue, May 30
---
Black Joy Week Kick-Off
11 a.m. – 1 p.m. | Red Square
Join us at our booth at Red Square for a treat, music, and to kick off Black Joy Week!
Faculty, Staff, and Student
Basketball Game
3-5 p.m. | Athletics Gym
Form a team and sign up for the 3 vs 3 basketball tournament! Prizes will be awarded to 1st, 2nd, and 3rd place teams.
Wed, May 31
---
Mindful Meditation
11 a.m. – 1 p.m. | Quad
It's week 10, so take a break and join in a community meditation for Black mental wellness and snacks on the Quad.
Thur, June 1
---
Capture your Joy
11 a.m. – 1 p.m. | Quad
This week is about JOY. Capture your joy at our 360 photo booth for music, snacks, and fun!
Fri, June 2
---
Pop Up Dance on the Quad
11 a.m. – 1 p.m. | Quad
What's a better way to show your joy than dance?! Come get down with the BSO by learning a dance and grabbing some food.
---
Want to be Notified?
All Kalamazoo College Students, Faculty, and Staff can subscribe here to receive notifications of BAFSA news, events, and more!